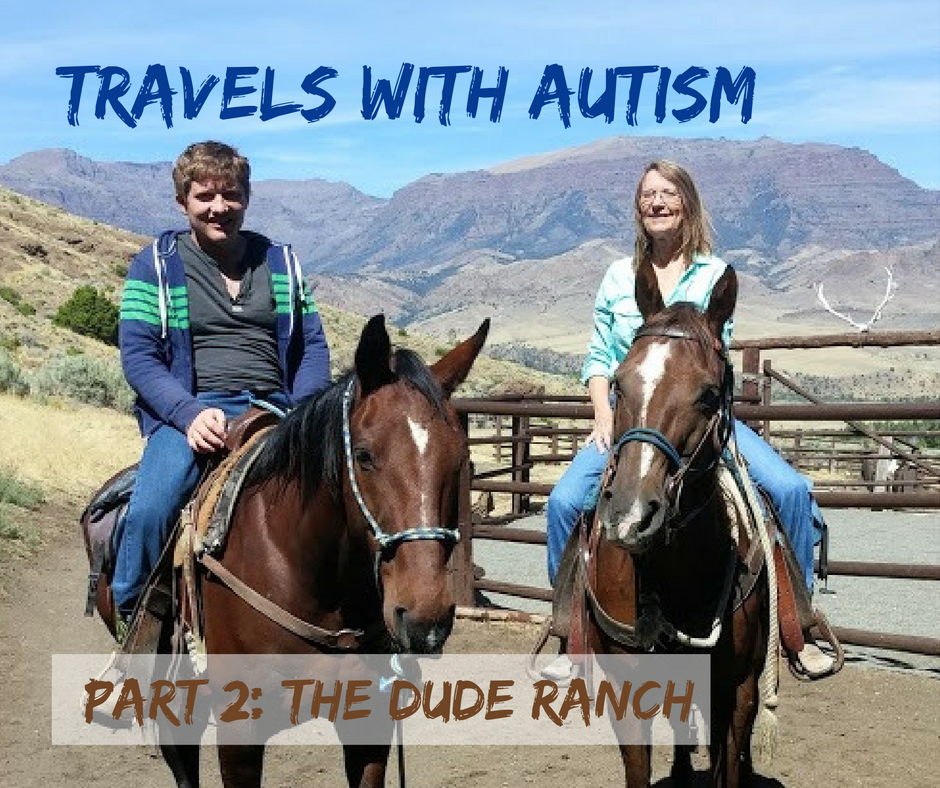 A dream abandoned
When my children were little, I dreamed of taking them out West to see the Rocky Mountains and national parks. My younger son's autism diagnosis and challenging behaviors put that dream out of mind for years.
This summer an opportunity popped up to go to Wyoming, and off we went, just the two of us. So …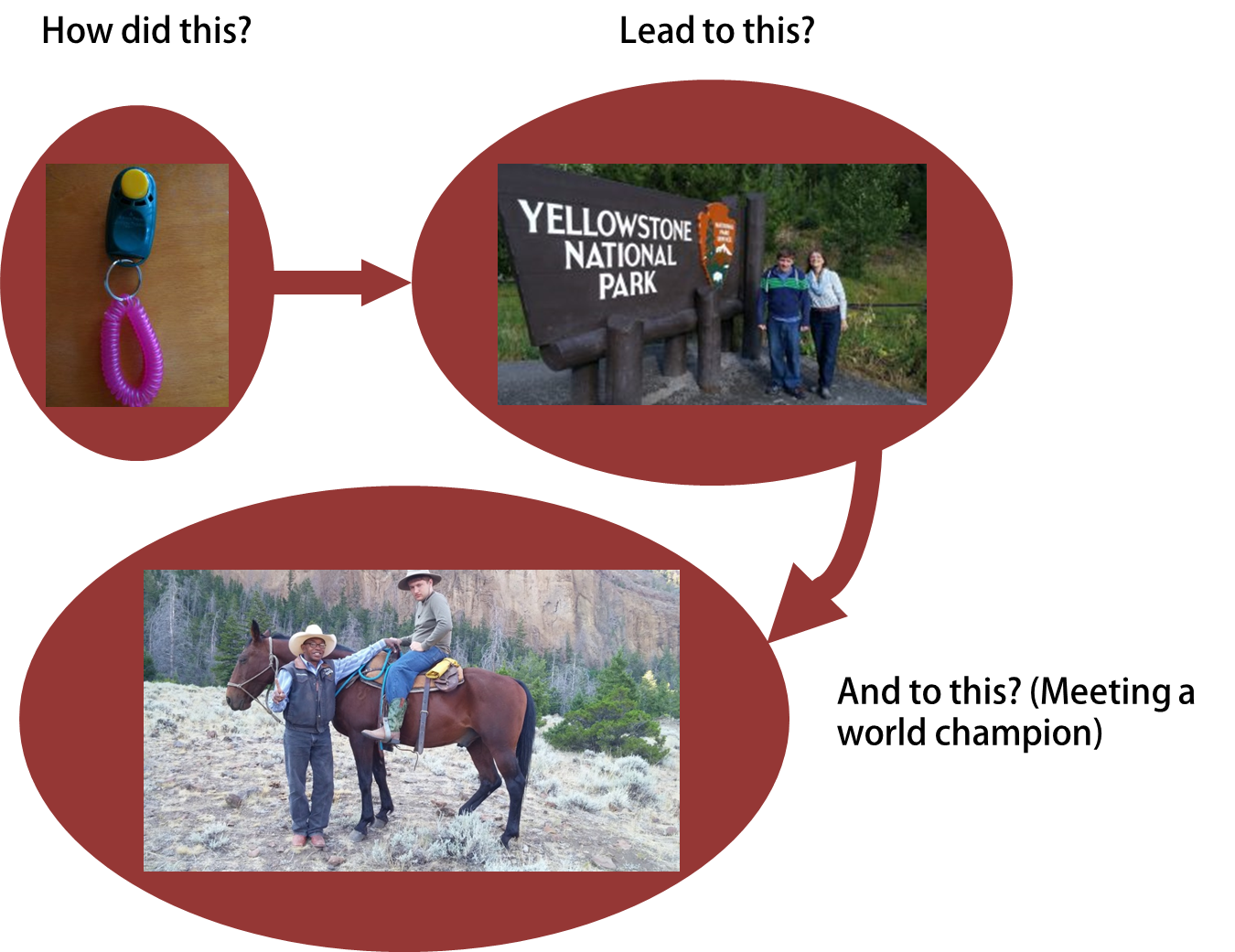 Traveling with autism. How to do it?
My son with autism is now 20 and he is big, strong, and fast. I had to think about how to take a nonverbal young adult with severe autism on airplanes and into unfamiliar environments, not to mention a different time zone. As a special needs parent and experienced TAGteach mom, I knew it was possible and had a plan of intensive behavioral supports all set and ready to go.
It worked. We flew from the East Coast to Wyoming and spent our time there hiking and horse-back riding, having some wonderful adventures, and meeting amazing people.
I'll be writing detailed articles on each of these topics over the next few weeks.
A dream fulfilled
I had hoped to do this a long time ago but couldn't because of my son's challenging behaviors. In the intervening years, our "status quo" changed: I learned how to teach and support him, and he took it from there. Before, tantrums, screaming, and bolting were the norm, now calm behaviors, cheerful glances, and cooperation are the norm.
We did it, and we had a great time. In addition to seeing one of America's great national parks, we learned how to travel and how to adapt to new environments; plus, we met lots of great people. We discovered that valuable life lessons can come when we least expect it.
The Life Lesson
A powerful lesson came from one of the wranglers on the trail rides, Charlie. For safety reasons, it had been decided that Douglas's horse should be led by one of the wranglers, and Charlie got the job.
Charlie turned out to be a soft-spoken, modest, and unassuming gentleman with years of experience with horses, cattle, and riding. He was very kind and gave excellent recommendations as to what would be appropriate for Douglas.
As time passed, we slowly learned more about him: Charlie turned out to be Charlie Sampson, a world champion bull rider! In 1982 he was the first African American cowboy to win a World Title in the Professional Rodeo Cowboys Association (PRCA). He went on to win many other championships during the course of his career.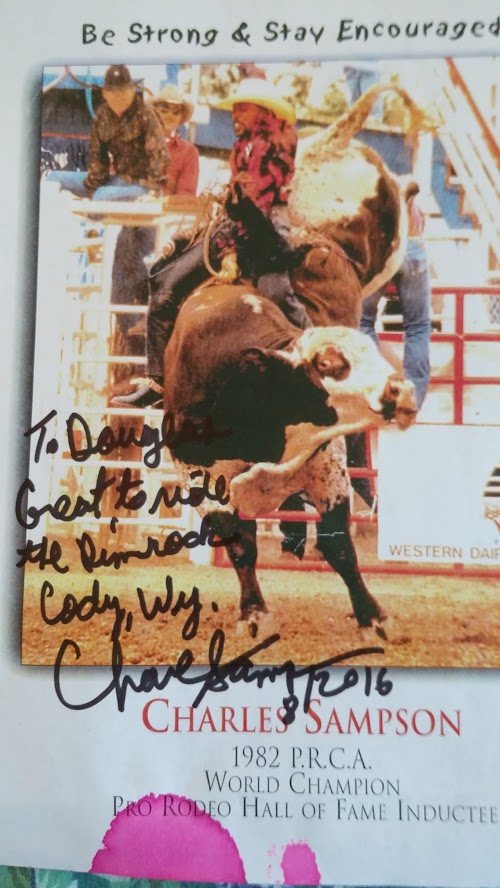 Charlie's life lesson, "Be Strong and Stay Encouraged," is embodied in this quote from his website:
"I didn't know I was gonna be a bull rider. Does it surprise you that I'm from Watts? I wasn't big enough to play basketball, or fast enough for football. But I came to love this sport.  You can't out muscle a bull. But deep down I knew I could conquer that animal once I got belief, a positive attitude, strength and the ability to react in split seconds." – Charlie Sampson
Positive attitude.
Strength.
Ability.
Belief in oneself.
We can't "out muscle" autism, but with a positive attitude and strength we can forge new pathways for our children.
His message is right for anyone at any time.
Thank you, Charlie!
What is TAGteach?
TAGteach stands for Teaching with Acoustical Guidance. TAGteach is a teaching and communication method based on the scientific principles of Applied Behavior Analysis (ABA).
TAGteach enables extremely precise positive reinforcement of behavior by using an acoustical signal to "mark" the behavior – at the precise moment the child performs the behavior! The acoustical signal is a short, sharp sound made by a handheld device (the "tagger"). When the child performs the correct action, the parent/instructor immediately presses the button on the tagger and hands over a treat (candy, treat, token, praise, social recognition, or money) as a reinforcer.
With TAGteach, it is easy to reinforce behaviors precisely, quickly, and intensively. The immediate, accurate feedback and positive reinforcement result in the child performing the correct action more often, and for longer periods of time. With immediate feedback and learning tasks broken down into small steps, children (and adults) can learn many new skills with TAGteach — at their own pace.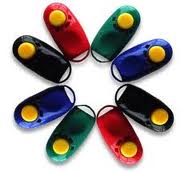 To learn more about this effective, low-cost method visit TAGteach International or Chaos to Calm
Join the free TAGteach for Learning, Behavior, and Autism Facebook group
TAGteach taggers available here and i-Clicks available here
See Martha's book about TAGteach for Autism or feel free to ask me a question (with no obligation).
Sign up for my mailing list to receive updates, new articles and free tips right in your inbox!
If you liked this post, please share it. Thank you!