Martha Gabler is the author of the book: Chaos to Calm: Discovering Solutions to the Everyday Problems of Living with Autism.
Listen to this podcast, in which Martha answers these questions about an effective communication method that families living with autism can use.
What are some of the everyday problems of living with autism?
What is the TAGteach method of communication?
What is a common issue that autism families face that can be addressed with the TAGteach method?
How does TAGteach help with this problem?
What advice do you have for other families out there that may be dealing with some of the same things you had to? 
Martha Gabler's book, Chaos to Calm, Discovering Solutions to the Everyday Problems of Living With Autism, is available now in print and Kindle formats.
You can connect with Martha at her blog AutismChaosToCalm.com or at her Facebook page.
This podcast is presented by the National PR Firm, Annie Jennings PR.  Annie is the Creator of JenningsWire, an online magazine that features a diverse community of talented bloggers.
What is TAGteach?
TAGteach stands for Teaching with Acoustical Guidance. TAGteach is a teaching and communication method based on the scientific principles of Applied Behavior Analysis (ABA).
TAGteach enables extremely precise positive reinforcement of behavior by using an acoustical signal to "mark" the behavior – at the precise moment the child performs the behavior! The acoustical signal is a short, sharp sound made by a handheld device (the "tagger"). When the child performs the correct action, the parent/instructor immediately presses the button on the tagger and hands over a treat (candy, treat, token, praise, social recognition, or money) as a reinforcer.
With TAGteach, it is easy to reinforce behaviors precisely, quickly, and intensively. The immediate, accurate feedback and positive reinforcement result in the child performing the correct action more often, and for longer periods of time. With immediate feedback and learning tasks broken down into small steps, children (and adults) can learn many new skills with TAGteach — at their own pace.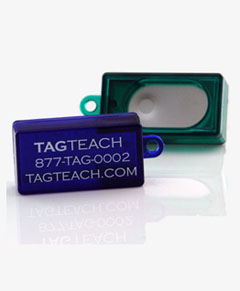 For more information visit the TAGteach website.
Join the free TAGteach Yahoo Group.
TAGteach taggers are available here.
See Martha's book about TAGteach for Autism or feel free to ask me a question (with no obligation).
Sign up for my mailing list to receive updates, new articles and free tips right in your inbox!
If you liked this post, please share it. Thank you!