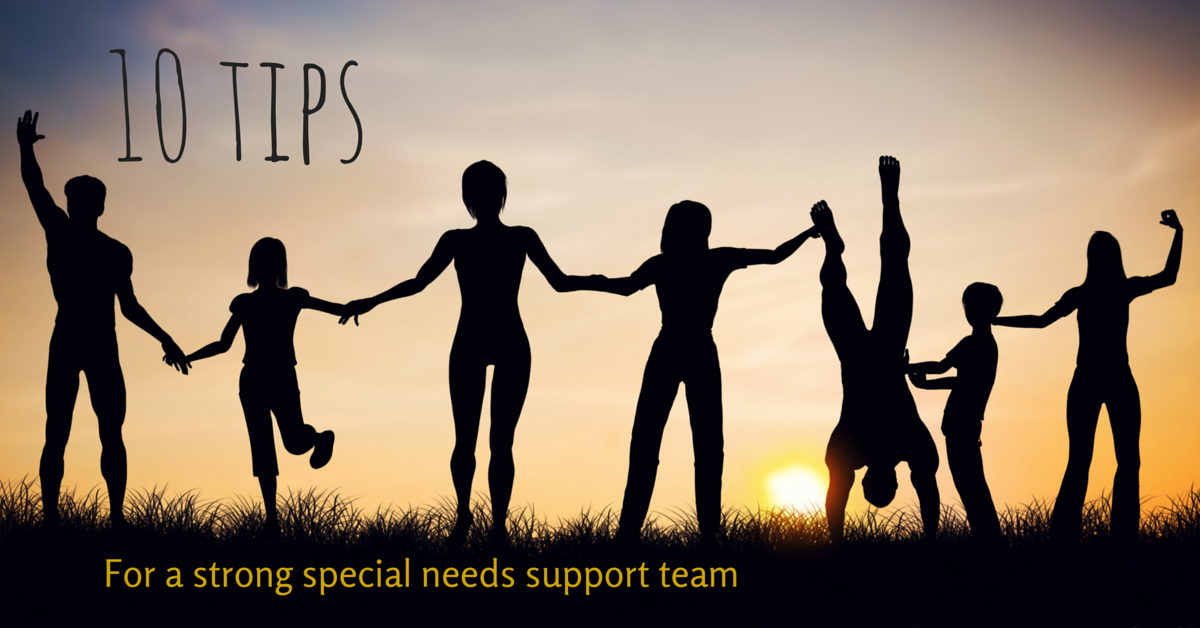 Your special needs child will do best with a strong team of professionals and parents working together. You are the expert when it comes to your child. The professionals working with your child will have more success when you work to support a relationship with them. Here are 10 tips from Bethan Mair Williams to help you get the most for your child through a successful relationship with your support team. Bethan is a Speech Language Therapist/Board Certified Behavior Analyst (BCBA) with more than twenty years of experience in working with children with special needs, training and supervising classroom staff, and developing data collection and interpretation systems.
Ten Important Things
Have a routine.  This may seem restrictive and boring but it will be the thing that will help your child the most. You can always slacken the routine later.
Keep data on everything — Meetings, phone-calls, toileting patterns, tantrums. Data does not have to be complicated.
Stay involved with professionals. Attend drop-ins and workshops even if they do not seem relevant or suitable. Join the board of governors and PTA. You then mark yourself out as someone who is engaged and committed and most professionals will take note of this and respond favourably to other requests you have.
Communicate with the school about everything – the good, the bad, the mundane and the exciting. It helps staff to help you and your child.
Be honest about what you can and can't do.
It is better to do a few things properly than a lot of things badly. Do not be dazzled by fancy new resources.
Try and limit the amount of people who are involved with your child. The more people there are, the more time is wasted in meetings and on paperwork. Consistency of approach invariably suffers.
Be realistic. There is only so much that an overstretched public service can do. The professionals working with your child are dealing with dozens, if not hundreds of other children. The best thing you can do is to educate yourself and commit yourself to working hard at home. Your child is only in school for about 6 hours a day.
Make use of online resources, which have revolutionised information sharing about Special Needs. See list below.
Don't be afraid to question and challenge. Stay polite though! Teachers and therapists are only human and if you lose your cool, it will make a productive relationship hard to maintain. Most people are doing their best for your child, even if their best isn't your best. Accept that sometimes you will know more than them. Try to share your knowledge. They will usually be grateful to you for making their working lives easier.
Bethan Mair Williams      Board Certified Behaviour Analyst (BCBA) and Speech and Language Therapist (S/LT)   12/03/16
Bethan's Resource List
www.organised-mum.org.uk  Large calendars (the best are the Home Planners). Used to help children to understand the concept of long term time (a day or longer). Also, concepts of past, present and future as well as mastery of sequential language (e.g. before, after, first, next). (This site may be temporarily closed)
www.timetimer.com  Timetimers are invaluable for helping children understand the concepts of time.
www.numicon.com Three dimensional evidence based multi sensory maths resource and curriculum. Invaluable for use by children with communication and learning disabilities.
http:/habitchange.com Motivaiders are small wearable devices which are set to vibrate at certain intervals, in order to remind   the person wearing them to carry out a target behaviour.
www.superduperinc.com Free downloadable information/ideas/handouts on various speech, language and communication needs. Also sells Fundecks language cards which can be adapted for use as SAFMEDS.
www.senteacher.org Excellent website which includes worksheets that can be customised to the individual's needs and PECS symbols as well as links to other useful websites.
www.autismchaostocalm.com  Martha Gabler's website and free video resources, demonstrating how to use TAGteach (teaching with acoustical guidance) for teaching. Simple, virtually free and based on solid behavioural science.
www.chartlytics.com Website to teach you the basics of Precision Teaching and using a standard celebration chart.
http://www.mheonline.com/directinstruction/ Direct Instruction products.
www.maloneymethod.com Website of Michael Maloney, one of the leading practitioners and developers of Direct Instruction curricula which also use Precision Teaching.
www.headsprout.com  Phonics based online reading programme (research subject of Bangor University).
http://www.freeprintablebehaviorcharts.com Free online behaviour charts.
 www.pecs.org.uk   Picture Exchange Communication System (PECS). Information, parent forum, details of training, and resources for sale.
http://uk.ixl.com Maths and English website which provides literally thousands of opportunities to practice key skills. Children score points but can also lose them so treat with caution!
http://www.bigbrainz.com/indexs.php  Fun computer games with good graphics for practicing multiplication, division, addition and subtraction. Monsters are slain!
www.maths-drills.com Website on which you can customise and download literally hundreds of different maths worksheets.
http://www.abainternational.org Association for Applied Behaviour Analysis. The annual 4 day convention held in a different American city is well worth attending.
http://www.elklan.co.uk  Popular speech and language therapy resources and training. The online shops sells junior and teenage versions of the TALC (used as a starting point for interactive diaries).
http://www.partingtonbehavioranalysts.com Access to ABLLS- R and also an electronic version.
http://www.marksundberg.com  Access to VB-MAPP.
TAGteach Resources
There are many resources here on this blog to help you teach your child at home, in all those hours when professional services are not available. Here is a list of some key resources to help you get started and to teach some specific skills important to success in daily life:
How to get started with TAGteach
TAGteach – What's in it for me?
Getting problem behaviors out of the way
How to teach safe walking skills – free video series on using TAGteach
How to get your child to sleep