Dr. Skinner describing optimum conditions for human learning
This fascinating six minute video from 1954 shows Dr. B.F. Skinner discussing the advantages of learning machines.
He describes how immediate feedback "…leads most rapidly to formation of the correct behavior," and has a "motivating effect."
Since the student moves through the program at his or her own pace, the student "…moves at the rate which is most effective for him."
Finally, with a carefully constructed program, the student goes from the initial stage of being "unfamiliar" with a subject to the final stage in which he is "competent." He achieves this through a series of very small, successful steps.
Thus the three essential conditions for effective learning are:
immediate feedback
moving at the child's pace
learning in many small steps
For more information about Dr. Skinner and his extensive contributions to science, please see the B.F. Skinner Foundation.
TAGteach (Teaching with Acoustical Guidance) is an application of ABA that delivers these three essential conditions for learning. See information below.
What is TAGteach?
TAGteach stands for Teaching with Acoustical Guidance. TAGteach is a teaching and communication method based on the scientific principles of Applied Behavior Analysis (ABA).
TAGteach enables extremely precise positive reinforcement of behavior by using an acoustical signal to "mark" the behavior – at the precise moment the child performs the behavior! The acoustical signal is a short, sharp sound made by a handheld device (the "tagger"). When the child performs the correct action, the parent/instructor immediately presses the button on the tagger and hands over a treat (candy, treat, token, praise, social recognition, or money) as a reinforcer.
With TAGteach, it is easy to reinforce behaviors precisely and quickly. The immediate, accurate feedback and positive reinforcement result in the child performing the correct action more often, and for longer periods of time. With immediate feedback and learning tasks broken down into small steps, children can learn many new skills with TAGteach — at their own pace.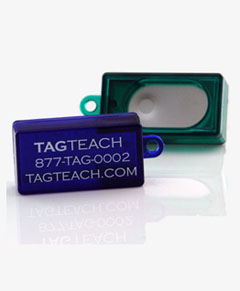 Join the free TAGteach listserve.
TAGteach taggers are available here.
See Martha Gabler's book about TAGteach for Autism or ask a question (with no obligation).
Sign up for my mailing list  to receive updates, new articles and free tips right in your inbox!
If you liked this post, please share it on social media via the vertical gray menu on the far right.