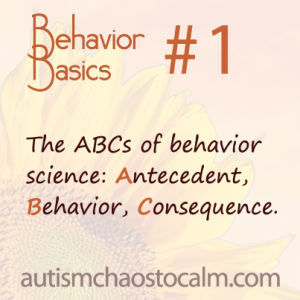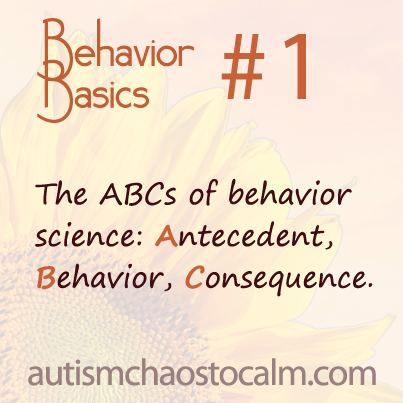 By popular demand, Chaos to Calm will be re-issuing its series on Behavior Basics! The newly designed series of Behavior Basics will address six topics to help autism parents understand the fundamentals of behavioral science. Two Behavior Basics will be released each week on Tues and Fri, starting on November 29, 2013. These will be just like the one you see here. You will be able to download these from here at the blog and from the Chaos to Calm Facebook page.
Be sure to collect the whole set of Behavior Basics! On the release date of each module, the Behavior Basics for that module will be compiled into a PDF ebook available from our blog and Facebook page.
Once a week on Fridays I will write a short article about the Behavior Basics released that week to provide additional explanation.
Topics
First Module: What is Behavior? Collect Behavior Basics #1 – 8.
Second Module: What are the roles of Antecedents and Consequences? Collect Basics #9-16.
Third Module: What does a Positive Consequence do? Collect Basics #17 – 20.
Fourth Module: What is the role of Positive Reinforcement in Building Behaviors? Collect Basics #21 – 26.
Fifth Module: What are some of the challenges in using Positive Reinforcement with learners with autism?  Collect Basics #27 – 34.
Sixth Module: Solution for Autism is the Conditioned Reinforcer. Collect Basics #35-42.
These six modules will complete the Introductory Set of Behavior Basics.
Behavior Basics Set #2
Work is underway on the Second Set of Behavior Basics, which will address topics such as:
Assessing Your Learner, Task Analysis, Developing a Behavior Building Plan, Using Reinforcement Schedules to Build Behaviors, Using Reinforcement Schedules to Maintain Behaviors, Using Reinforcement Schedule to Repair Behaviors, Teaching Behaviors in New Settings, and Knowing When To Stop.
Questions?
If you have questions about any of the Behavior Basics, please ask me in the comments section below, or ask me on the Chaos to Calm Facebook page so others can see my answers as well.