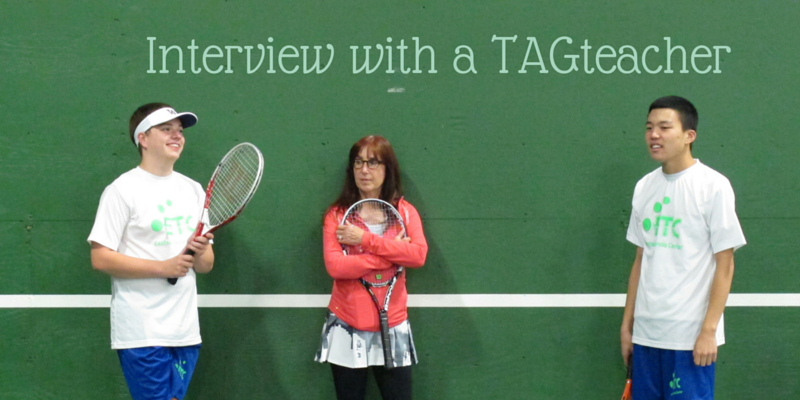 Have you wondered how to apply TAGteach in a group sports setting with special needs kids? Will it be too noisy for the learner to hear the tags? Will the learner be too distracted by everything else going on the room? How do you handle the reinforcers? Can you use TAGteach to manage behavior and social issues? Do coaches really think that kids taught with TAGteach learn better? Listen to this month's interview with a TAGteacher and watch the accompanying videos to get answers to these and more questions.
This month, Martha Gabler interviewed TAGteacher Joey Iversen (in red shirt above). Joey is a Level 2 TAGteacher with extensive experience from both ends of the tagger. Joey has trained several tennis coaches to use TAGteach during her own lessons because she wants to learn in the most efficient way possible. Joey has also been working with a special needs tennis program and successfully integrated TAGteach into the teaching protocols.
Martha had questions for Joey on the following topics:
How did you get started with TAGteach?
What was the one feature that really "pulled" you in?
Where did you first start using TAGteach?
Tell us about TAGteach and tennis for special needs kids
How did the coaches react?
What were their positive comments?
Where there any negative reactions?
Joey referred to a couple of videos and these are shown lower down in this post so that you can watch them after you listen to the interview.

Video #1
This video shows a tennis lesson in which the tag point is "step forward". The player is focusing on stepping forward with her right foot after hitting the ball.
Video #2
This video shows a group tennis lesson. Three players are hitting the ball and the other three are tagging. This means that everyone is participating, focusing on one thing and learning, even when it's not their turn to play.
As part of our online course: TAGteach for Autism, we are holding monthly live Q&A sessions with author and mother of a child with autism, Martha Gabler.  A feature of these Q&A sessions is an interview with a TAGteacher. We will be posting the interview section in our blog each month for you to view for free. The full Q&A session will be available for purchase.