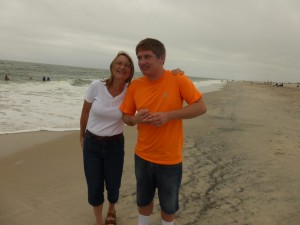 Article originally published in Operants, the newsletter of the B.F. Skinner Foundation
I am the mother of a nonverbal teenage boy with severe autism. I'd like to tell you a little bit about my family's journey with autism, and a lot about the wonderful method known as Teaching with Acoustical Guidance (TAGteach).
I will describe how TAGteach meets the three essential conditions for effective teaching, as delineated by Dr. B.F. Skinner, why this simple method is so effective for learners with autism, and how it can be a boon for autism families and autism professionals. At the end, I hope you will be inspired to try TAGteach for yourself!
Our autism journey
I love ABA now, but came to it by chance, not choice. The day my son was diagnosed with autism was the day that the world turned upside-down for us. It also ended up being the day that eventually brought us to ABA. After that fateful day, we had to deal with a devastating diagnosis, try to get services, find out that the best services (ABA) were out of reach, and then, figure out a way to move forward.