We Autism Parents – We CAN teach our children
Do you wish you could change some of your child's behavior? Do you wish that you could help your child learn functional behaviors and new skills faster and without frustration? All you need is to understand how behavior works and how to teach new behaviors to replace difficult behaviors. This book will explain in plain language the basic principles and terms in behavior science. You will be able to understand your child's behavior therapy program and will understand the basics required to teach your child yourself.
In addition to the book you will receive free updates and articles with specific step by step tips explaining how to teach functional behaviors that will allow you and your child to get out into the community and enjoy life.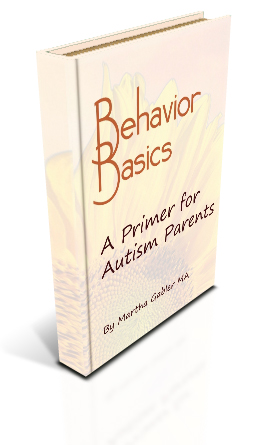 This 66 page book is intended to explain in simple language basic behavior principles and terminology for autism parents. This will help you to understand what the behavior therapist is doing and saying and will help you to understand articles about applied behavior analysis (ABA) that you might want to read.
The topics include:
What is Behavior?
Maintaining Behavior
Increasing Behavior
Reinforcers
Timing of the Reinforcer
Conditioned Reinforcers